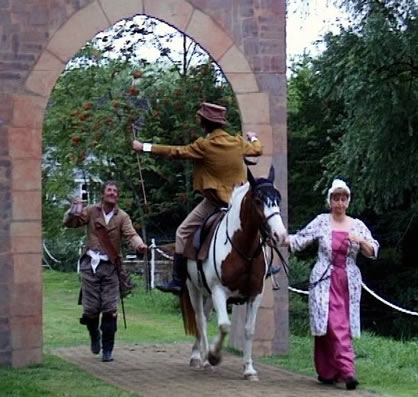 1996: The Taming of the Shrew
The summer of 1996 was possibly even hotter than that of the previous year, and Beryl Rees' Jane Austin period production of The Taming of The Shrew also played at both Quenington and Sandringham; this time in front of the house itself, without real fruit (as in the previous year's Twelfth Night) but with amazingly simulated victuals for Petruchio's servants to throw around the stage.  At least one lovingly and meticulously constructed chicken was lost to the waters at Quenington on the only night it rained (during the interval only – not before and not after).
The staging of this play involved two walk-way bridges running onto a River Stage constructed only part way across the river, so the potential for unscheduled bathing was great ― but only one member of the cast succumbed to the temptation.  The play also saw the introduction of Molly ― an amiable and (luckily for Petruchio) tolerant pony ― on which he had to make his first entrance riding backwards.  Molly didn't even seem to mind the fireworks.